Home Equity Line of Credit
Unlock Your Home's Potential.
A Home Equity Line of Credit (HELOC)(1) gives you flexible access to funds based on the equity that you have in your home. These funds are available to use as a revolving line of credit-quite similar to a credit card-and available whenever you need it. Whether you're looking to finance a large home remodel or use it as a 'rainy day' fund, a HELOC can help you get there.
Let us help you take advantage of your most valuable asset. Use the equity in your home for what you need, when you need it. Reach out to one of our HELOC experts today!
Call 605-277-7465 or fill out the short form below to get started.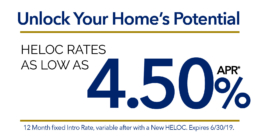 The HELOC Advantage
Home ownership comes with a laundry list of perks so why not tap into the equity you've built up. With our Home Equity Line of Credit, you can expect personal service from our team along with many additional benefits.
Flexibility to borrow what you need, when you need it
No pre-payment penalty
Ease of access to funds
Use of funds in a multitude of ways
Five (5) year draw period
Tax advantages(2)
Put Your Home Equity Line of Credit to Work
Dreaming of a tropical vacation or finally purchasing that RV you've been eyeing for months (or years)? It's time to start making moves and put the equity in your home to work for you



With the ease of accessing funds by check, online banking transfers, or at your local branch-it's time to let you home do the work. Tap into the equity you've built up and apply today!
Still have questions? Read our HELOC FAQs here.
* 4.50% fixed Annual Percentage Rate (APR) for first twelve months. Thereafter, variable APR adjusted quarterly based on Wall Street Journal Prime Rate (index), plus or minus a margin for the life of the loan. Current APR as of 4/1/2019 is 4.50% APR, includes - 1.00 margin and assumes great credit and loan to value < 90%. Minimum floor rate of 4.50% APR and a maximum rate of 7.25% APR. Rates and terms will vary depending upon loan-to-value, loan amount, loan term, lien position, and credit qualifications. Property insurance is required, flood insurance may be required. Consult with your tax advisor on potential tax savings. Certain restrictions apply. Limited time offer.

(1) All credit and loan products are subject to credit approval. Loan programs subject to qualification.

(2) Consult with your tax advisor for eligibility.